Endocannabinoid System
The endocannabinoid system (ECC) or endogenous cannabinoid system is arguably the most important physiological system in the human body, known to affect our well-being.
Scientists have identified three key components that make up the endocannabinoid system: endocannabinoids, endocannabinoid receptors and enzymes.
There are endocannabinoids throughout our body: in the brain, in vital organs, in connective tissues, in the cells of the immune system and the glands. Endocannabinoids are synthesized in our body and act as message transmitters by "sticking" to the ECS receptors.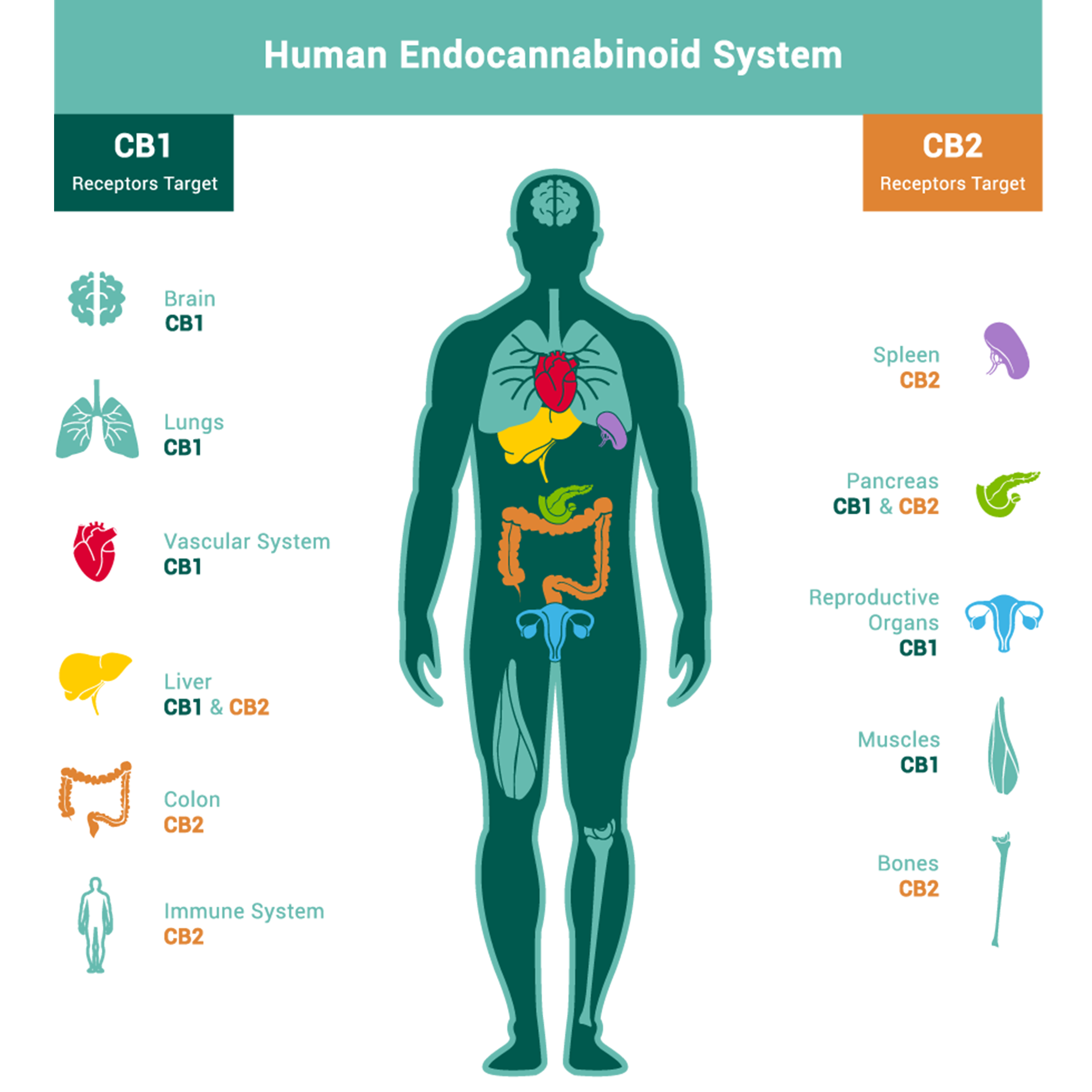 The endocannabinoid system performs various functions in every tissue of the body, but always with the same goal, that of maintaining a stable internal environment despite external fluctuations, ie it functions as a regulator of homeostasis. Homeostasis is the maintenance of the conditions of our biological system, so that our cells maintain their optimal performance. ECS plays a regulatory role in the functioning of the central and peripheral nervous system, the endocrine and immune systems, and the metabolism.
Enzymes are proteins that act as catalysts for various chemical reactions. The endocannabinoid system contains enzymes, which synthesize and dissolve endocannabinoids.
Cannabinoid receptors play an important role in the functioning of the endocannabinoid system. They help transmit messages from the endocannabinoids to the cells and from the outside of the cells to the inside.
Cannabinoid receptors act as mediators, that is, between the external and internal environment of the cell. Once activated, they trigger a sequence of actions that cause cells to change their behavior. At the same time, they activate a collective effort to achieve balance.
Researchers have so far found a pair of cannabinoid receptors:
CB1 which is found in glands, connective tissues, nerve structures and organs (brain, spine, fat cells, liver, pancreas, skeletal muscle, gastrointestinal tract, reproductive system) and
CB2 which is more common in the immune system (immune cells, gastrointestinal tract, liver, fat cells, bones, reproductive system). These receptors are stimulated by substances that our body naturally produces, called endocannabinoids. The best known of these chemicals is Anandamide.
The science of cannabinoids continues to make exciting discoveries, but one thing is clear: an effective endocannabinoid system is an essential ingredient for our well-being.
With the natural products of KANNABIO it is possible to strengthen and influence our endocannabinoid system, to ward off diseases and to ensure good health, stimulation and well-being.
The fact that there is a system in our body that produces cannabinoids and is specifically designed to accept only these, should be overwhelming proof of the effectiveness of cannabis as a dietary supplement and medicine.